Οκτ 2nd, 2010 |

Filed under: BIOGRAPHY BISHOP AUGOUST. English, English
Mέ βαθιά αγάπη καί πνευματική ευγνωμοσύνη αφιερώνω ταπεινά στον σεβαστό μου Γέροντα, στόν ανίκητο καί φλογερό μαχητή της ΟΡΘΟΔΟΞΙΑΣ, στον φωτισμένο ιεράρχη της του Χριστού Εκκλησίας, στον ακούραστο ιεροκήρυκα του Λόγου του Θεού, Επίσκοπο Φλωρίνης πατέρα Αυγουστίνο την μετάφραση της "ΣΥΝΤΟΜΗΣ ΒΙΟΓΡΑΦΙΑΣ" έκδοση, Ιεράς Κοινοβιακής Μονής «Ζωοδόχου Πηγής» Λογγοβάρδας Πάρου.
Aleksander P. Filip
ΧΡΙΣΤΕ ΑΝΑΠΑΥΣΟΝ ΕΠΙΣΚΟΠΩ ΑΥΓΟΥΣΤΙΝΩ!
SHORT BIOGRAPHY
OF BISHOP AUGOUSTINOS N. KANTIOTES,
FORMER METROPOLITAN OF FLORINA, PRESPAS AND EORDAIA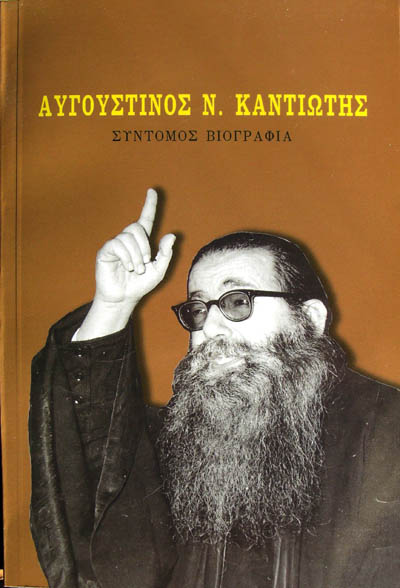 By Archimandrite Laurentios Gratseas
"He sent a man before them" (Psalm 104,17)
PREFACE
To summarize the life of a man in a few pages it's a difficult task. Especially when this man is someone who "did not give sleep in his eyes", but day and night worked with an unprecedented zeal for the glory of the Church of Christ, and in his persona are found rare charismas, then the task certainly becomes infeasible.  "When some one turns back and looks at all the works of a short in stature preacher, wonders how such a man was able to accomplish so much" observes the news paper "MESSIMBRINE" on April 12, 1965 – at this time he wasn't even a bishop.
And when you add the rest of the works of Augoustinos as bishop and the picture becomes complete, you wonder even more.
History, however should not be forgotten and especially when it's about outstanding personalities such as the one whose biography we are compiling – a prominent personality that was greatly misunderstood and severely persecuted. Therefore it's worth the effort to synoptically describe the most important aspects and periods of his life.  This description will be based on testimonies given by eyewitnesses, eminent or simple men, on published or unpublished texts, and finally on testimonies of himself. We believe that this presentation of his biography finally shows that: the appearance and presence of father Augoustinos was not only directed by his faith in God but also strengthened by the divine grace. As a result, whatever is written here aims at, first and foremost to the glory of the grace, to the glory of God who is working within us "to make us willing and able to obey His own purpose" (Phil. 2,13), and second  to honor the vessel which received this grace.
A.    PRIVATE LIFE
a.    Origin – birth – childhood in Lefkes of  the island Paros

"I saw the sweet light of the day in the year 1907.  I was born in Paros, one of the Aegean (Cyclades) islands.  My ancestors (blood relatives) were called Kantiotae because according to the tradition were originated from the great island of Crete which at that time of the Venetian domination was called Kantia.  As a child I lived in the pious environment of my village Lefkes, whose 20 churches and chapels testify to, among other things, the piety of the inhabitants.  My mother was a teacher, and from infant age I lived in a school environment, directed by a prominent teacher – a figure that reminded us of some of the great teachers of the nation – the ever memorable Ioannes Gaitanos, of whom the biography was written by one of his students, the Archimandrite Nikolaos Arkas. I was a lively and naughty child, and as such I tasted many time the disciplinary stick of my teacher and of my parents.  Oh, my good parents and teachers, how grateful I am for your strictness which had in it riches of affection!
The first however direction towards the spiritual life I attribute to my ever memorable father, who was of little education, but a man of a sincere repentance and deep faith. He wasn't like this from the beginning. How was he changed?  Pay attention and listen:  As a merchant he was traveling often.  Being once in Athens during the month of February 1920, one morning he visited a certain shop in Athens, from which he was buying the necessary things for his small shop. Upon entering the shop there he saw everyone, the director and the clerks, crying loudly. To his question why they were crying, they answered: "dear Nicholas, our spiritual father, father Dionysios Farazoules, the preacher of the Cathedral, past away. Today his funeral will take place…."  The employees recommended to my father to go also to the funeral and so he went. And what he saw and heard during that funeral of the ever memorable fr. Dionysios, moved him in a most profound way.  At that time an unknown Christian recommended to him the religious magazine "ZOE"(«ΖΩΗ» which means life) of which editor was the preacher of blessed memory.  From that day on, my ever memorable father was completely transformed.  He returned to the village. He went to the spiritual father, he confessed his sins, and since then to the end of his life he was reading the word of God and attending Church services regularly, as well as urging others to repent.  My father led me too, being a student still, to the Holy Monastery of Longovarda, and for the first time I confessed to the ever memorable Fr. Philotheos Zervakos , with whom since then I was connected spiritually. After that confession my vivid character began to be controlled

(1)

.

Characteristic of the repentance and of the spiritual life demonstrated by Nicholas Kanitotes is the fact that when Fr. Philotheos was visiting Lefkes to hear confessions, he would stay at his home.  There, in a room, the confession of the villagers was taking place, many of whom the host himself had urged to do so.  Father Augoustinos narrates:  my father was of little education.  He was a small merchant in the village.  He once went for confession to a great spiritual father, ever memorable now, and a saint in my estimation, Fr. Philotheos, the abbot of the Longovarda Monastery – may his memory be eternal.  He went there, confessed, and when he returned home he was a different man.  And not only this!  Thereafter, he started to do something else.  Every Great Lent he would go to the monastery, take his spiritual father, the elder Philotheos, and would bring him home.  He would place him in the living room of the house and take care of him.  Then he would visit the houses of the neighborhood, one after the other, and he would bring home almost all the villagers for confession.  May his memory be eternal

(2)

!
And Fr. Philotheos in one of his epistles testifies about Nicholas Knatiotes saying:  As his spiritual father for about 20 years, I can most certainly say that he was in a great physical and mental health, and to many he became a spiritual healer, due to the fact that he was leading them to confession, to repentance, and ultimately to virtue

(3)

.
Important for the young Andreas (this was Fr. Augoustinos' baptismal name) is also the influence of the catechetical school (Sunday School), which was taught by the simple, but of strong faith, priest of the village father Nicholaos

(4).
From the early years it was clear which way Fr.Augoustinos was going to follow; he was painting saints, making wooden crosses, practicing sermons in the garden or in his room, and when he was 14 years old he was making wooden seals carrying the names of the – supposed – periodicals that he would publish, such as "SPIRIT" («ΠΝΕΥΜΑ») or "RENAISANCE" («ΑΝΑΓΕΝΝΗΣΙΣ»)

(5)

.
From September of 1919 until 1921 he leaves his family environment to go to the Middle School of the town of Paroikia, the only Middle School in Paros, where he was living in the dormitories (cells like) of the historical Palaiochristian Church  of Ekatontapyliane

(6)

(the Church of 100 doors).  The children would go back home every Saturday.

Studies in the High School of Syros

"With God's help I finished the elementary school of Lefkes, and afterwards the middle school of Paros.  I expressed my desire to further continue my education.  The municipality of Cyclades islands, where today are functioning over 30 high schools, at that time had only one high school, the famous High School of Syros, which basically covered the whole area of the Cyclades islands.  I studied there from 1921-1925.  I was a hard working student and I excelled in all classes.  I was fortunate to have excellent high school directors, the ever memorable Ioannes Rosses, a famous and wise author of  text books used in school curriculums, as well as Constantine Gavras –  both of them were devoted to the ancient Greek language, thus conveying to the students the love for the Hellenic education, the Greek culture and writings.    During this period Fr. Philotheos was often visiting the city of Hermoupolis, and his sermons and especially the holy life that he was leading would be a source of inspiration for all of us.

I successfully finished my high school studies.  Friends and relatives were constantly urging me to continue my studies in one of those scientific fields that were appealing at that time, and still today continue to attract a multitude of young people.  However, I decided to study theology.  When I announced my decision to my father, after confessing it first to Fr. Philotheos, he said to me: my dearest son, even though we have three unmarried girls in need of care and protection, I don't want to hinder your plans.  All I ask from you is that you become worthy of your call .

In an environment that had already started to be polluted by various antichristian ideas and practices, Andreas was unwaveringly holding the line of navigation which he had drawn. During every school-year he was distinguished among the other classmates, and as a result honored with the famous Koskorozio award.    In all class-discussions he was always the first and always victorious, without losing his sense of humor.   He was leading a simple life, studying hard and keeping all the Church fasting, even though he was far away from home; this though brought as a result frequent colds.  Perhaps these fasts and the hard work with his studies contributed to a greater deterioration of his health.  Rarely would he come out on the streets during his free time with his fellow students.
__________________________________________
(1) Periodical «ΧΡΙΣΤΙΑΝΙΚΗ ΣΠΗΘΑ», "CHRISTIANIKE SPITHA" (which means Christian Spark) – No: 440/1985.
(2) Bishop Augoustinos N. Kantiotes Metropolitan of Florina, Homilies on the 50th Psalm, Athens 2000, pp.208-209.
(3) See pamphlet "A Horrendous Slander" – «Μιά βδελυρά συκοφαντία», editions of Orthodox Association "The Shield of Orthodoxy" – «Ασπής της Ορθοδοξίας», Athens 1960.
(4) See Encyclicals 519/1993 and 531/1994 "An Account of the Seventh Four-Years Period" – «Απολογισμός εβδόμης τετραετίας», by Bishop Augoustinos Metropolitan of Florina, Athens 1996, pp.423-451.
(5) See the book of Nicholaos Alimprantes, "Metropolitan Augustinos-His Childhood Years" – «Αυγουστίνος Καντιώτης-Τά παιδικά του χρόνια», Athens, 1982, pp.77, 82, 86-87
(6) Church was dedicated to the All-holy Theotokos  by St. Helen, the mother of Emperor Constantine, during one of her trips to the Holy land when she was forced to stop at this island due to stormy weather out at sea.

ΣΥΝΕΧΙΖΕΤΑΙ
Humbly translated by Aleksander P. Filip
With deep love from my heart and with a whole lot of gratitude from my soul, I dedicate this work to the honorable Elder, the exemplary champion of Orthodoxy, the enlightened hierarch of the Church of Christ, the fervent and the restless preacher of the Word of God, Bishop of Florina Father Augoustinos

LORD GOD JESUS CHRIST REST THE SOUL OF BISHOP AUGOUSTINOS!