Posted by: Επίσκοπος on

Ιούν 4th, 2019 |

Filed under: English
Ἀπὸ τὸ βιβλίο: ΤΙ ΘΑ ΜΑΣ ΣΩΣΗ; σελ. 246
ΤΟΥ ΜΗΤΡΟΠΟΛΙΤΟΥ ΦΛΩΡΙΝΗΣ π. ΑΥΓΟΥΣΤΙΝΟΥ ΚΑΝΤΙΩΤΟΥ
Θὰ μοιράσωμε σὲ σᾶς, κάτι μικρὰ φυλλάδια μὲ ἑξήντα ἐρωτήματα

(*)

Ὅπως ὁ γιατρὸς ρωτάει· ποῦ πονᾷς; Ἔτσι καὶ ᾿μεῖς κάνουμε ἑξήντα ἐρωτήματα. Διαβάσατέ το, διαφωτισθῆτε καλά, καὶ δῶστε τὸ φυλλάδιον αὐτὸ καὶ σ᾿ ἄλλους ἁμαρτωλοὺς καὶ σ᾿ ἄλλους ἀνθρώπους. Νὰ κυκλοφορήσῃ σὲ ὅλη τὴν πόλι, καὶ ὅλη τὴν ἐβδομάδα ἐδῶ οἱ πνευματικοὶ τῆς πόλεως θὰ ἐξομολογοῦν.
Τρέξτε, παρακινῆστε, σπρῶξτε
Τρέξατε, τρέξατε, τρέξατε ἑως ὅτου ἀκόμη μπορεῖτε. Μικροί, μεγάλοι νὰ κοινωνήσετε τῶν Ἀχράντων Μυστηρίων. Σπρώξετε, παρακινεῖστε ὁ ἕνας τὸν ἄλλο. Ὅπως οἱ ἁμαρτωλοὶ σπρώχνουν στὴν ἁμαρτία.
Μοῦ λεγε ἕνα νέος· «Ἂχ» λέει, «ἐγὼ καλός ἤμουν, Δέσποτα, ἀλλὰ μιὰ μέρα μὲ παίδευε δυὸ ὧρες ὁ σατανᾶς».
Ποιός σατανᾶς; Ὁ φίλος μου καὶ μὲ πῆγε μέσα στὴν ἁμαρτία.
Ὅπως λοιπὸν οἱ ἁμαρτωλοὶ σπρώχνουν τοὺς ἄλλους στὴν ἁμαρτία, σπρῶξτε καὶ σεῖς μὲ δύναμιν ἀγγέλων καὶ ἀρχαγγέλων! Σπρώξατε ὁλόκληρο τὴν πόλι στὴ μετάνοια καὶ ἐξομολόγησι. Ἔχετε ὑποχρέωσι, ὄχι μόνο αὐτὰ τὰ ὁποῖα ἀκοῦτε ἐδῶ πέρα νὰ τὰ μεταδώσετε· Κάθε ἕνας ἀπὸ σᾶς, δύο, τρεῖς, τέσσερις, πέντε ἁμαρτωλοὺς νὰ τοὺς φέρετε, ἐδῶ στὸν πνευματικόν, στὸν ἐξομολόγο, νὰ πλυθοῦν, νὰ καθαρισθοῦν.
Νὰ τοὺς σπρώξετε ὅλους στὸν Ἰορδάνη ποταμό, διότι ὅπως εἶπα καὶ ἄλλοτε, ἕνα δάκρυο, ἕνα δάκρυο ποὺ πέφτει ἀπὸ τὸν ἁμαρτωλὸν ἄνθρωπο, εἶνε Ἰορδάνης ποταμός.
Μὴ μοῦ μιλᾶτε γιὰ τὸν Ἰορδάνη. Χίλιες φορὲς νὰ περάσετε ἀπ᾿ τὸν Ἰορδάνη, μιὰ ἁμαρτία δὲν σβήνετε. Ἰορδάνης ποὺ τρέχει ἀκαταπαύστως μὲς τὴν Ἐκκλησία εἶνε ἡ θεία μετάνοια.
Ὅλοι νὰ σπεύσωμε πρὸς τὴ μετάνοια, γιὰ νὰ ἔχωμε τὴν εὐλογία τοῦ Κυρίου ἡμῶν Ἰησοῦ Χριστοῦ εἰς αἰῶνας αἰώνων.
(*) Το φυλλάδιο στα Ἑλληνικα http://www.augoustinos-kantiotis.gr/?p=73662#more-73662
(*)

Το φυλλάδιο στα Ἀγγλικα
A MIRROR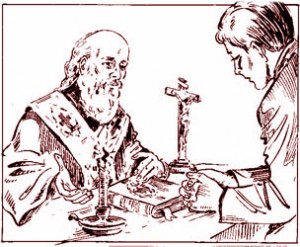 We are all sinners. There is not a human being on earth who does not sin. Whoever says that he does not have sins is a big liar. We all have sins and indeed many of them. We sin with all our senses. We sin with our eyes, with our ears, with our tongue, with our hands, with our feet, with our mind, with our heart. Each day we transgress the law of God many times.
Our sins are numerous. And as we think of them, very often we are caught in despair. The devil discourages us. We think that there is no way in which their weight can be removed from us.
But as many as they might be, they do not exceed the love of God. How much God loves us! He forgives all our sins, if only we confess them with sincerity and contrition. For this reason, do not despair. Whatever you might have done, it is forgivable, if only you go to your spiritual father and confess with true repentance, with contrition, and with faith that «the blood of Jesus Christ cleanses us from all sin.»
In order to assist our Christians in the mystery of confession, we printed this leaflet. It mentions the most serious sins that we often commit. Read this leaflet and mark which of these sins you have committed and confess them with sincerity. Consider whether you have done anything else that is not written here.
A – Sins against God:
1. Do you believe in God, the Holy Trinity, the Divinity of Christ, the church and her mysteries? Do you believe that there is a heaven and a hell? Do you believe that the mystery of Confession is given for the forgiveness of sins?
2. Perhaps you blasphemed the name of Christ, the Theotocos, the Cross, the Saints?
3. Perhaps you heard others blaspheme and did not protest, but remained indifferent? Read more »